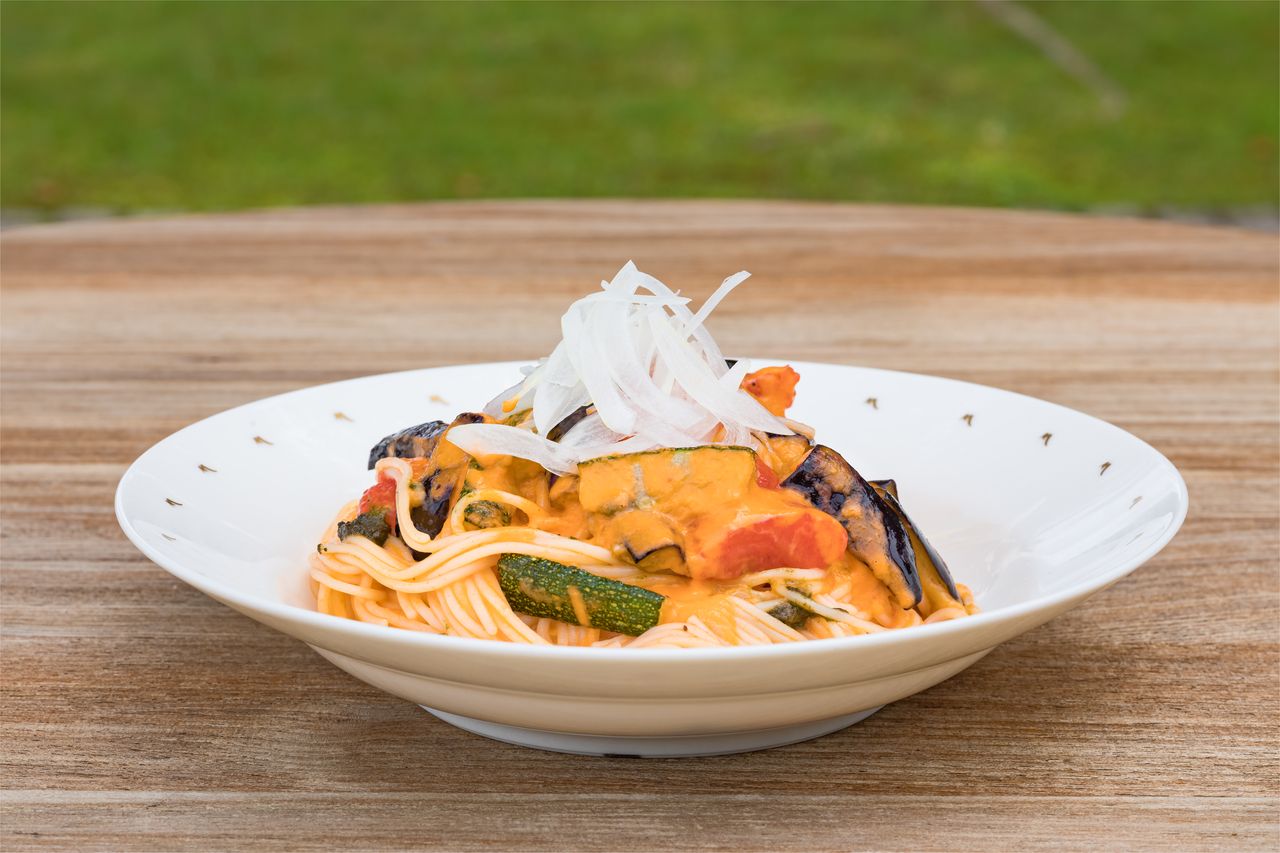 Ingredients (for 3 servings)
-Chilled Tomato Sauce
8-8.5 oz fresh tomato, fully ripe
5 tablespoons olive oil
1 teaspoon salt
-Vegetables (for mixing in)
1.75-2 oz eggplant
2-3 oz tomato
1 oz zucchini
String beans (or other summer vegetables), as desired
– 9.5 oz spaghetti
-Toppings
1/3 oz red or yellow onion, sliced
Small amount of basil leaves or basil sauce
-Salt and Pepper, to taste
Steps
1. Prepare Chilled Tomato Sauce
(1) Dip fresh tomato in boiled water, then place in cold water until chilled. Remove stem and peel skin. Cut tomato horizontally in half, then use a spoon to remove the gelatinous seeded areas. Use a sieve to separate the seeds from the juice. (Seeds will be discarded.)
(2) Place the remainder of the tomato and the juice in a blender and lightly blend. Add olive oil and salt, then blend thoroughly.
(3) Pour blended sauce into a bowl and chill.
2. Prepare Vegetables
Cut eggplant into bite-sized pieces and deep-fry. Add salt and chill. Peel the other tomatoes (using same method as above), then cut them into bite-sized pieces and chill. Cut zucchini into bite-sized pieces and deep-fry (or stir-fry in olive oil). Add salt and chill.
Prepare other vegetables appropriately as desired.
3. Cook Spaghetti
Boil a pot of water, adding salt generously. Boil spaghetti for roughly 2 minutes longer than the time suggested on the package. Place spaghetti in colander or strainer to drain water. Chill using ice, then shake out any water. Line a clean cloth over a tray. Place spaghetti over the cloth and wipe until dry.
4. Finish
Place the vegetables prepared in step 2 and spaghetti from step 3 into the bowl with the sauce from step 1 and blend. Add salt and pepper to taste, then place into a chilled dish. Scatter basil leaves over the pasta (or pour over a small amount of basil sauce), then top with sliced onions.